Tesla Sentry Mode Wireless – Everything You Should Know
October 22, 2020
Disclosure: This is a professional review blog. Bear in mind that some of the links in this post are affiliate links and if you go through them to make a purchase I will earn a commission. Keep in mind that I link these companies and their products because of their quality and not because of the commission I receive from your purchases. All of the products are tested thoroughly and high grades are received only by the best ones. I am an independent blogger and the reviews are done based on my own opinions.
Sentry Mode is one of the most sought after features of Tesla's premier automobiles.

With its focus on securing your car in your absence, the functionality safeguards your vehicle through alarms, proximity sensors, and camera recordings

. 
Due to this array of benefits, Sentry Mode is often the first feature to check for new Tesla drivers, and the most frequent technology to use for existing owners. No matter the category you fall into, the mechanism ranks front and center due to its popularity and reliability.
But in order to make the most out of Sentry Mode, it's critical that you are aware of the latest updates for its compatibility and usability features. Take wireless connectivity, for instance. Those who are aware of the functionality swear by it, and those who want to learn more can't wait to try it. 
To help you use the feature and understand its overall benefits, here's everything you need to know about Tesla Sentry Mode Wireless connectivity.
Wireless Connectivity Makes Way for Better Organization
The Tesla Sentry Mode is popular for its Dashcam functionality, which records video footage whenever your car is parked and saves the clips for future use. This is in addition to the regular TeslaCam feature, which records videos during your active drives. 
In both modes, the Dashcam records from three different cameras located at different angles in the car. This means that if you are going through a particular timeframe for previous footage, you will be watching three different videos to get the complete view of your car's surroundings.
In both instances, the Tesla Dashcam requires a USB flash drive or an external HDD/SSD device to store its recorded footage. 
Before April 2020, Tesla owners couldn't view the recorded video clips in the car itself despite having an infotainment system and screen in it. But with the update titled 2020.12.5, you can now view all Sentry Mode and Dashcam recorded footage on your car's screen itself.
This particular activity comes in handy when your vehicle is hit or harmed by a third party. By having video proof, you can follow through on insurance and legal proceedings and hold the other party accountable. However, you can only view the videos one at a time, which makes it difficult for you to sort through the footage from different cameras at once.
That's where Tesla Sentry Mode Wireless connection comes in. 
By using a USB storage media that comes with wireless connectivity, you can directly stream its video files to your phone. This way, you no longer have to go through the process of separately watching the same footage from different angles. Through the wireless functionality and associated programs, you can view all three clips of a given timeframe side by side. 
Now that you are aware of the direct advantage delivered by Tesla Sentry Mode Wireless Connectivity, here's how you can actively benefit from it.
How to Use Tesla Sentry Mode Wireless Features
The Tesla Sentry Mode Wireless feature is dependent on hardware equipment and specific programs alike. While the former lets you connect your storage in wireless capacity, the latter allows you to benefit from organizational features such as simultaneous viewing of multiple video clips.
Wireless USB Flash Drive
First and foremost, you need a USB flash drive that uses Wi-Fi to connect with other devices in its vicinity. These specialized USB flash drives work the same way as any other regular storage media in terms of saving files and rewriting them. But they do so with the added advantage of wireless connections. 
One of these flash drives is the SanDisk Connect Wireless Stick. This particular storage device comes with the feature to share data with other devices through password-protected wireless connections. As a result, it makes it easier for you to access and view your files through your handheld devices. 
In order for such a storage device to work with your TeslaCam and Sentry Mode, it needs to be formatted to the FAT32 file format. You also need to create a new folder by the name of "TeslaCam" to make sure that the storage media works with your car.
If the formatting is done properly, you can see the Dashcam icon on the screen upon inserting the USB drive into your car's panel. In case the icon doesn't appear, it means there are possible problems with the formatting of the USB drive. 
Once you have ensured that the USB device works with your car, you can move towards the next step of the process. 
Specific Apps and Programs
Once you have your wireless USB flash drive all set up, you can connect your external device such as your phone to your storage media. In order to reap the full benefits of watching multiple video clips simultaneously, you need to do so through specific programs that are built for Tesla Sentry Mode and Dashcam.
These apps are often available on the App Store and Google Play Store alike and come with different functionalities and benefits. Most of them are only compatible against a plug-and-play USB storage, which makes it important for you to determine their functionality against storage media that uses wireless connectivity. 
By installing the right apps and using them with your wireless flash drive, you can save a lot of time by viewing your videos simultaneously. But you can also enjoy other benefits such as combining multiple video captures into a single file and increasing the playback speed. 
Some of these apps come with pre-packaged hardware devices, which also take care of the need of purchasing a separate USB storage media. By going with one of these options, you can cut down the additional steps of configuring your hardware device. 
It's Important to Remember That Wireless Connectivity Often Causes Issues
Since wireless connectivity through third-party equipment is not an official feature, it can sometimes cause issues such as non-responsive equipment. That is why it's important that you only use it as a supplemental functionality for the organization of your Sentry Mode and Dashcam videos.
Wireless SSD Tesla
A lot of Tesla owners tend to use a cheap USB that they can find anywhere. However, it is essential to understand that these devices were not built to be written continuously. They were not meant to handle so many cameras together, and hence, they end up producing corrupted footage. Therefore, they tend to break down quickly, and you keep getting warning messages like "slow flash drive."
With the WD wireless SSD, you don't have to worry about all these things. Specifically crafted to be written on for years at a time.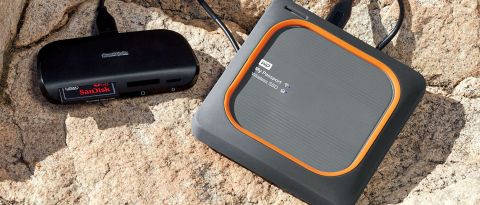 Specifications
· Preformatted: These SSD drives are fully preformatted. All you need to do is plug them directly in Tesla Sentry and Dashcam. There are no extra steps required.
· Compact and portable: They have a compact design, and you can carry them anywhere with ease.
· Stylish build: It has a premium build quality, unlike other cheap USB drives that people opt for. It is built with high-quality aluminum and gives you a rich feel with every touch.
· 10x faster: It is ten times faster than the usual MicroSD cards and USB flash drives. It is actually much quicker than what your Tesla requires and works at 300 MB/S.
· Unlimited updates: It has been built to handle unlimited updates from Tesla and has an extremely high recording capacity.
· Plug and play: The WD SSD drive comes with the TeslaCam folder – all you need to do is plug right in and turn on your Dashcam and Sentry Mode.
· Direct access through iPhone/iPad: The WD SSD drives give you a direct view on your iPhone and iPad, unlike other usual SSD drives. It has been specifically crafted for iOS 13 and above. This gives you the feasibility to view it on your iPhone on the spot rather than waiting to reach your destination to be able to watch it.
· Built for various Tesla models: You can easily use this SSD drive for Tesla Models 3, X, Y, and S.
Pros:
· Premium aluminum build quality
· Get unlimited updates
· Watch your videos anywhere
· Tesla Dashcam and Sentry mode
· Can handle 4 to 5 cameras at the same time
· No corrupted camera footages, ever
· 10x faster than usual devices
· Faster than Tesla's requirements
· Accessible on various Tesla models
· Can last you for years at a time
· High recording capability
· Comes with a three-year warranty
· 100% refund if you are not happy with the performance during the warranty period
Cons:
· It is a bit on the higher range as compared to other devices, but given the brand, this is the minimum you have to spend to experience what it offers.
Conclusion
The WD SSD drive for Tesla is everything you need to have a hassle-free experience. It protects your Tesla seamlessly and gives you unlimited access to safety for extended periods. Click here to check the price on Amazon and bid goodbye to cheap devices. Start protecting your Tesla today, and if you don't like it and are searching for an alternative, check out this article on our site about the  Samsung T5.
Also check other articles