6 Best 360-Degree Dash Cam With Parking Mode
October 14, 2021
Disclosure: This is a professional review blog. Bear in mind that some of the links in this post are affiliate links and if you go through them to make a purchase I will earn a commission. Keep in mind that I link these companies and their products because of their quality and not because of the commission I receive from your purchases. All of the products are tested thoroughly and high grades are received only by the best ones. I am an independent blogger and the reviews are done based on my own opinions.
A dashboard camera, more commonly referred to as a dash cam, is a small video recording device that records your driving activity. They have proven especially useful if you are ever involved in an accident, especially when trying to prove who is at fault. Now there is not any question about who is to blame, the whole incident is on camera. The dash cam is continuously recording when your car in on so no need to worry that you might miss something. Dash cams can record from the front, rear, and side windows. Then there is the dash cam that covers you from every angle, including when you park. With so many choices, you may need help deciding which is the right choice. The compilation below may prove useful when investigating the top 6 choices available.
6 Best 360-Degree Dash Cam With Parking Mode
Vantrue N4 Three-Way Dash Cam With 24 Hour Parking Mode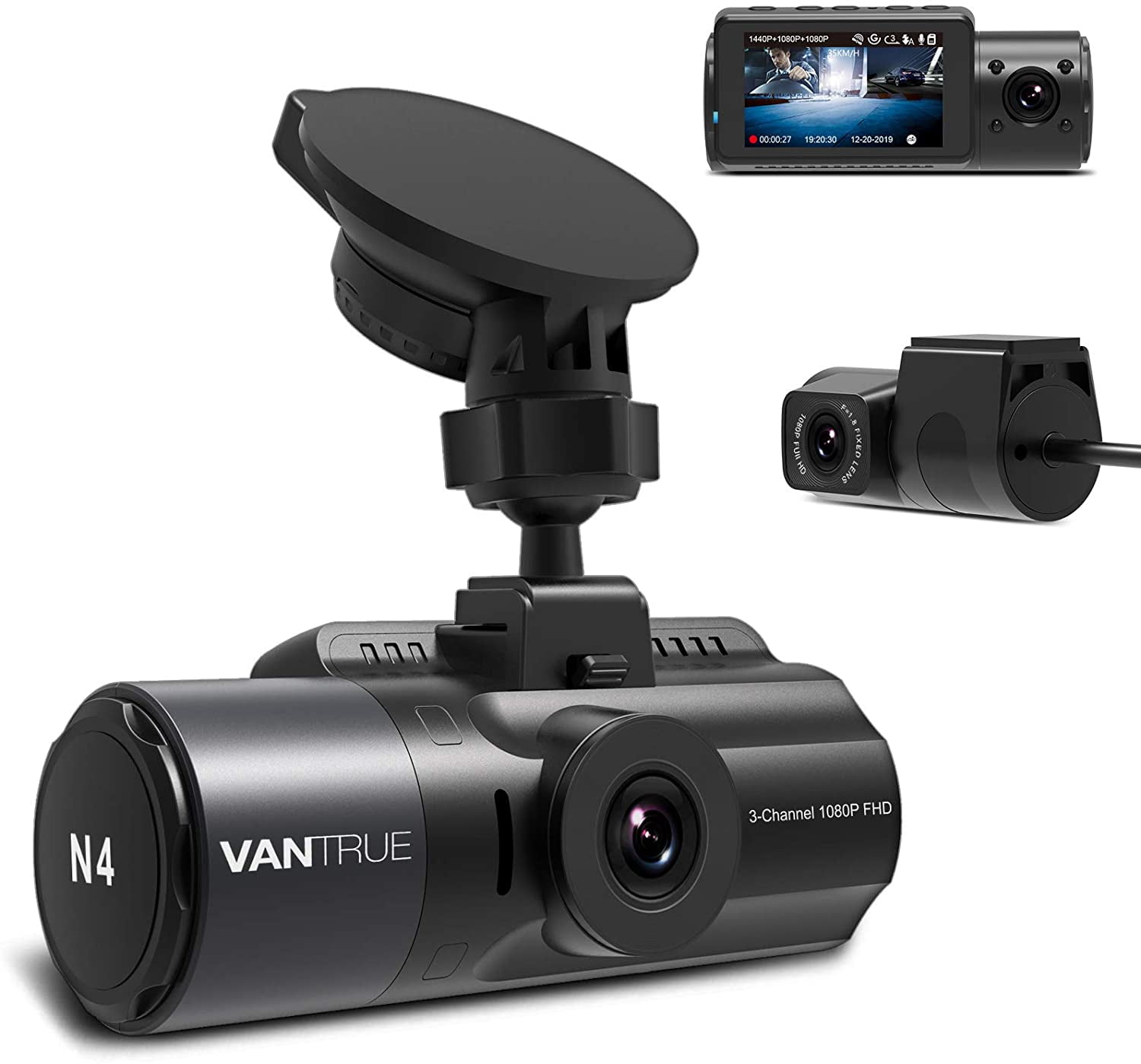 This dash cam monitors the inside of your vehicle as well as the front and rear. While recording what is taking place in front of your vehicle while you are driving, it has the ability to record any incidents that take place behind your vehicle. Now you can have eyes everywhere. Capable of automatic adjustment, the camera's account for change in lighting as the day changes to night. Parking mode is an added capability that watches your vehicle when you are not around. The dash cam is in standby mode while parked and will engage as soon as it detects any motion on the front or rear. It will begin recording immediately upon impact so no need to worry about a hit and run. Parking mode is something that is should seriously be considered when making your decision on the right dash cam. It can save a lot of headaches when there is no one around that can witness what happened.
Click here to check the price on Amazon.
Type S 360 Degree Smart Car Dash Cam Camera
The Type S dash cam is an economical choice to consider. This dash cam records all angles of your vehicle with a faultless resolution. This camera is equipped with G sensor technology that begins recording in parked mode 10 seconds before and after it detects motion. It automatically adjusts with night vision so that your recording will be as clear as during the day. This dash cam comes equipped with both an adapter and hard wiring capability for installation however you prefer. If you need to see something recorded and you are not in your vehicle, that is not a problem either. Videos can be watched directly by using the Type S Drive app available on your smart phone. This dash cam comes with a 16 GB SD card but you can upgrade to a larger storage capacity SD card if desired.
Click here to check the price on Amazon.
Azdome Three-Channel Dash Cam With Built-In GPS
The Azdome dash cam is equipped with a wide-angle lens that easily captures four lanes of highway at any given time. Advanced technology allows this dash cam to record clearly from distances far away. You can also park with ease knowing that if there is an incident with your car out of your presence, this camera will activate immediately upon impact and record for one minute thereafter. Important to note that a Class 10, U3 Speed SD card for 4K is required. Generic SD cards are not designed for capturing 4K video. If there is no activity detected for one minute, the dash cam will go into power saving mode.
Click here to check the price on Amazon.
REDTIGER 4K Dual Dash Cam With Built-In GPS
The clarity provided by this dash cam will be so clear that you will be able to read license tags and street signs. Its wide-angle lens will capture pedestrians and cars that may be on the side of your vehicle. Using the Ucam app, you can use your smartphone to manage the videos on your phone and gives you the ability to forward a video to a friend on social media. The F1.5 aperture and six glass lens afford the same clarity at night without any need for supplementary light.
G-Sensor technology detects any kind of collision or impact and will begin recording immediately (specific hardware kit needed for this feature). REDTIGER aims to have complete customer satisfaction by offering a lifetime warranty on all products and will provide a free exchange for one year. As an added bonus, 7-day 24 hour is available for technical support.
Click here to check the price on Amazon.
Chortau Dual Dash Cam With Parking Mode Detection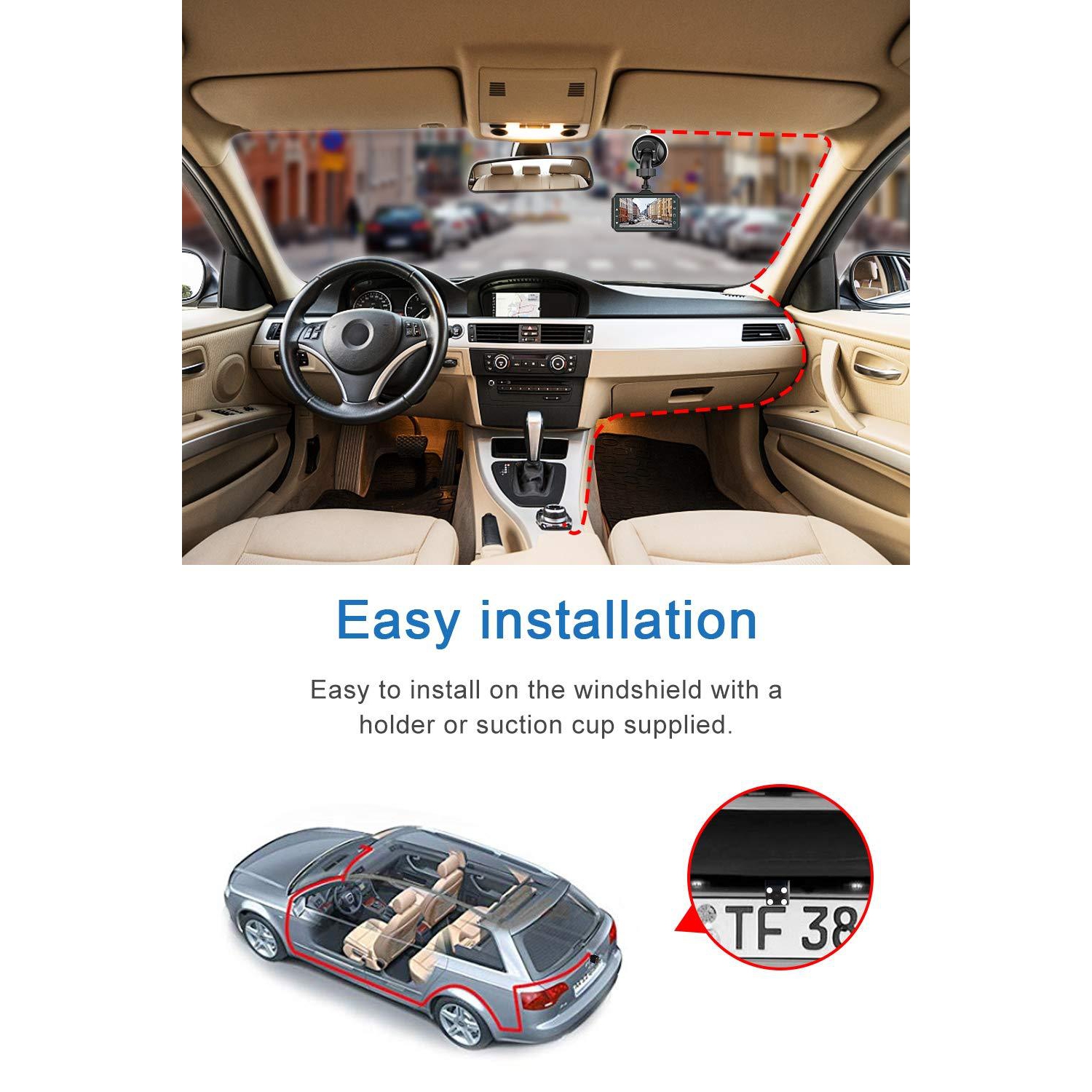 At a very affordable price, this dash cam offers many of the features that the others provide. The Chortau dash cam records from the front and back with wide angle cameras that eliminate blind spots on the side. While parked, it immediately begins recording video as soon as impact is made with your car. It detects even someone simply scratching your car. SD card not included. If your card is full it has loop recording capability which ensures you will never miss a thing. It will start recording over the original videos on the card. It also comes with lifetime backing from Chortau's technical support, 7 days a week and 24 hours a day.
Click here to check the price on Amazon.
Razo DC3000A 360 Degree Dash Cam With Complete Car Camera Video Security
This dash cam is slightly more expensive but comes with all bells and whistles. Instead of multiple cameras, this camera utilizes a single 360-degree lens that records from any and every angle. It records everything going on outside and inside of your vehicle. Comes with an SD card that will soon be upgraded from 16GB to 32GB. The optional purchase of the parking option (DC200A) enables the camera to record in 360 degrees while the engine is in park.
Click here to check the price on Amazon.
Final Thoughts
Dash cams provide so many benefits that it is a smart investment to make. An added benefit to give attention is the potential savings on car insurance. In effect, it will help pay for itself. Add an extra measure of security and peace of mind for you or your loved ones by installing the best dash cam available today.