Best Tesla Model Y floor mats + 3D mats guide
May 5, 2021
Disclosure: This is a professional review blog. Bear in mind that some of the links in this post are affiliate links and if you go through them to make a purchase I will earn a commission. Keep in mind that I link these companies and their products because of their quality and not because of the commission I receive from your purchases. All of the products are tested thoroughly and high grades are received only by the best ones. I am an independent blogger and the reviews are done based on my own opinions.
The tesla model Y is an awesome electric vehicle (maybe the best one?), with plenty of attributes that make it special and elegant, unfortunately, a kick-ass floor mat is not one of them. However, there is a variety of aftermarket alternatives. Having a floor mat 3D set for tesla will help you keep it clean regardless of the weather or terrain conditions outside. They are good for all kinds of weather. In winter they will keep the interior clean, free of road salt, mud, or snow and not only that, these mats also give it an appearance of cleanliness and the designs are perfectly suited to tesla's elegance. 
Depending on the look you are going for, you can choose from either carpet or rubber floor mats – each with its benefits.
Rubber car mats are ideal for wet weather areas, as they don't soak up rainwater or snow from your shoes and can be easily cleaned off. Meaning that if you spill something sticky or strong smelling onto your car floor, they should be able to be cleaned with water and soap only. The only downside of opting for rubber mats is that, as they don't suck water, they are not as effective in drying your shoes before driving, and can become slippery in wet conditions.
Carpet floor mats are very useful in holding dirt from your shoes, so you can easily remove and shake the mats rather than collecting dirt in hard-to-get places in your car. They can be vacuumed easily inside or outside in your car, and you can employ the use of carpet cleaners to give them a thorough clean up thus eliminating any bad odors in your Tesla car.
Advantages of having a floor mat on you Tesla Model Y
–They will protect your car from wear and tear, moisture and dirt, which is particularly important during long periods of bad weather.
-The all-weather mats are designed to provide complete interior protection against dirt, mud, salt, rain, snow and keep your vehicle's floor clean and pristine in all seasons.
-These mats protect of your vehicle from humidity and dirt that can permanently stain and damage the car floor.
-They'll make your car look super fancy. Each Tesla Model Y mat has special characteristics and technical specifications depending on the manufacturer, so you can choose from a wide variety, the one that best suits your needs and tastes.
-By changing the floor mats in your car, you will not only renew the interior, you will also protect the original upholstery.
-They are super practical, they can be easily removed from the car to clean them.
-They will extend the useful life of the floor of your car by always keeping it as new.
-They are easy to install, strong and durable.
Consequences of not having a floor mat
-Frequently entering with wet or dirty shoes can affect the coating of your car.
-If a lot of moisture enters the car, in a short time the vehicle's floor can leak, thus increasing the possibility of oxidation.
-Liquid spilled inside the vehicle can cause deterioration and damage to the carpet and the floor.
These are some of the best floor mats for your Tesla Model Y car's floor:
The overall best: MAXpider
TESLA MODEL Y ALL-WEATHER 3D MAXPIDER FLOOR MATS
The overall winner: Maxpider floor mats. It isn't hard to look for reasons to purchase one considering it ranked #1 in a recent vote where Tesla owners themselves voted for it as their number 1 choice for floor mats. Maxpider floor mats deliver not only all-weather protection but also unparalleled comfort as well as sleek aesthetics that overall, really complement the look and feel of your car. Their 3D mats are also extremely easy to clean and bear an almost "carpet-like" appearance as opposed to the "plastic" look of other competing floor mats.
MAXpider's price depends on the number of pieces you want, a complete set would cost you around of $200; it provides all-weather protection, keeping all the dirt, mud, salt, water, and snow away.
It's made from a waterproof durable carbon fiber textured finish and gives protection and complements your Tesla Model Y interior with a sleek and modern texture. Underneath it, there is a layer of lightweight XPE Foam Middle Layer that absorbs vibrations, reduces road noise and increases passenger comfort, and finally, the last layer has a system called Anti-Skid Backing grips that in the Tesla Model Y floor firmly prevents the mats from sliding around without damaging the original carpet in your Tesla Model Y. Also, they are made of environment -friendly SSG certified material and are 100% odorless. Last but not least, the raised side walls provide seamless edge-to-edge protection that prevent dirt from getting on your Tesla Model Y carpet.
Easy cleaning stands out among its qualities, thanks to the waterproof and stain-resistant surface, you simply have to remove them from your Tesla Model Y, wipe with a wet towel or hose off and done.
3D MAXpider Rubber Coating for Tesla Model Y 2020-2021 Black Custom Fit All-Weather Kagu Series
The 3D MAXpider KAGU series all-weather floor protection liners are designed to provide complete interior protection against dirt, mud, salt, rain, snow and keep your vehicle's floor clean and pristine. in all seasons. Using high-precision laser scanning technology, each mat is tailor-made for your Tesla Model Y vehicle, with maximum coverage for the perfect fit.
In addition, the raised side edges prevent dirt from getting under the carpet. The innovative hybrid material floor covering offers many more benefits than traditional floor mats. The thermoplastic rubber surface offers waterproof protection with a nice and elegant texture; lightweight XPE foam absorbs vibrations and reduces road noise; The non-slip back part holds the floor firmly and prevents it from moving. Made of environmentally friendly material, they are totally odorless and non-toxic, so you don't need to put up with the unpleasant smell of rubber. Thanks to the waterproof and stain resistant surface, these mats have never been easier to hose down and clean. Just peel them off, wipe them clean with a damp towel or hose, and make your mats look like new again.
The lightweight texture also comes bundled in with a lightweight XPE foam cushion. The cushion is designed to absorb road vibrations to ensure a smooth ride as well as greatly lessen cabin noise from the interior.
Coming to the rear, you'll now find two additional pieces also known as "cubbies" that are located on each side of the trunk. This is perfect for protecting the premium floor mats from dirt, drops, and other types of spillage. It is also highly convenient if you want to store items (provided you make them stand upright) such as grocery bags, bottles, milk bottles, and so on.
The Maxpider floor mats come in different sizes and prices. You can select the ones that best meet your needs and budget:
| | |
| --- | --- |
| Size | Price |
| 7 piece complete set (All seats and trunk liners + frunk) | $534 |
| 5 piece set (front seating, rear seating, upper trunk liners only + frunk) | $409 |
| 4 piece set | $329 |
| 2 piece set (upper trunk + frunk liners) | $204 |
| 2 piece set (lower sub trunk only) | $124 |
| 3 piece set (front and rear seating) | $209 |
Click here to check the price on Amazon and here for Teslarati shop. 
Now here are our top picks after MAXpider
1) HEA Heavy Duty Modern floor mats for Tesla Model Y 2020 – 2021 – All weather, all season waterproof floor mats.
Floor mats, heavy duty all-weather covers, front and rear accessories.
These all-season floor mats fit perfectly as if they were made with your Tesla Model Y. They protect and look impressive.
They are made of high quality, flexible, water resistant, environmentally friendly and modern looking hybrid latex waterproof rubber, extremely strong, durable and eco-friendly, in a proprietary dual mold process.
They are designed with honeycomb deposits to protect your vehicle from harsh elements, messy passengers, or just everyday wear and tear. The honeycomb design will capture dirt and better yet anything you spill on the car.
They are odorless. There is no need to drive with the windows down. Easy to clean and install. They will always stay flexible in the harshest conditions. They feature an all-black minimalist design and are backed by an industry-leading lifetime warranty. Click here to check the price on Amazon.
2) Farasla – Set of 6 floor mats for Tesla model Y 2020-2021
The all-weather cargo mats are designed to keep your interiors clean and pristine. Unique design created especially for Tesla Model Y. Made from high-strength TPE material that makes these all-weather cargo mats last longer compared to other varieties.
These floor mats do a perfect job of protecting your car from the dirt of everyday use. The spikes in the back hold the mat, so the cargo liners stay firmly in place providing maximum protection. Strong but flexible even in extreme cold, fire and UV resistant, environmentally friendly, as well as non-toxic and odorless, so your interior will not have that unpleasant rubber smell. TheseTesla Model Y cargo mats are easy to maintain and clean. Simply wash or spray with soap and water. It does not absorb odors. Extend the life of your car floor by keeping it looking great and like new.
They also offer 100% Buyer Satisfaction Guaranteed. If you're unhappy with any aspect of their all-weather floor mats, just contact them and they'll fix it.
Click here to check the price on Amazon.
3) OEDRO All Weather Protector Floor Mats compatible with Tesla Model Y 2020 – 2021
Includes 1st and 2nd row: Front and Rear Full Set Liner, Black TPE.
The interior carpet of the vehicle will be totally protected from rain, fog, snow, liquids, and drebris, by the OEDRO all-weather mats. This liner gives your car a neat look while enhancing its resale value. Made of non-toxic and odorless TPE material, strong, durable and easy to clean, it achieves better wear resistance than traditional PVC. Heat resistant and flexible in hot and cold climates. Clips to prevent this car liner set from shifting or slipping and hampering the pedals. OEDRO front and rear seat mats are designed with advanced 3D laser scanning technology.
Click here to check the price on Amazon.
Tesmanian's Model Y floor mats may very well be the best choice after MAXpider when it comes to fit, quality, and sheer utility. The interior liners protect the Tesla Model Y's floors incredibly well, and based on their unique design, they likely hold a lot of mud and snow too. Cleaning them is pretty easy, as a quick dust-off or rinse is usually all that is needed to clean them. The tesmanian are designed to offer maximum protection, durability and are environmentally friendly.
The ones designed for the model Y are custom made and designed to protect against a variety of weather and harsh conditions such as dirt, snow, rain, and so on. The floor mats come with 2 front liners and 1 rear liner. (One front liner for the driver and the other front liner for the passenger).
The floor mats are made up of TPE or Thermoplastic Elastomer. This new compound is fast growing in popularity in the manufacture of many materials due to its high degree of elasticity, mechanical strength as well as astounding low levels of toxicity which makes it completely odorless and eco-friendly as well as safe for humans. The surface of the floor mats is also extremely resistant to skidding and is very easy to clean and maintain in the event of any unfortunate mishaps.
The reviews for the Tesmanian Model Y floor mats are also extremely positive with buyers praising the fact that mats bend in right with the look of the car as well as its extremely high durability. At a relatively low price compared to the Markpider floor mats, it presents itself as a smaller, budget-friendly alternative and does the job well.
Click here to check the price on Amazon or here to buy straight from Tesmanian's own website. 
5) TESLA MODEL Y TOUGHPRO FLOOR MATS:
The main feature of this floor mat is that it can be customized to fit any car of any shape or size. Like the other floor mats listed here, it is also highly resistant to temperature and various other weather conditions and is made of highly flexible rubber.
The backside of the floor mats featured anchors and nibs that prevent skidding and provide additional safety for the occupants of the car. The front of the mats features a hexagon pattern that is akin to a soccer ball. This pattern is unique to the ToughPro series of floor mats that help protect against moisture and other forms of spillage if any. It comes in only two colors namely black and gray.
Another major perk of the ToughPro floor mats is the lifetime guarantee. Even in the case of any wear and tear, you can easily get a replacement and no cost, making it a simple one-time purchase. Customer reviews for ToughPro are also highly positive with the product boasting a 4.8/5 rating on Amazon.
Click here to check the prize on Amazon.
Bonus mat:
AUTOTAILORS
These car floor mats from Autotailors are highly recommendable. They are the only ones to have a split trunk so both underneath compartments are accessible separately. They are thick padded weave if you don't like the rubber mats and they also have a waterproof layer. They look splendid for your interior and are very comfortable for your underfoot. Click here to check the price on Amazon.
Our top picks outside Amazon:
Because we want to support independent business for ethical reasons.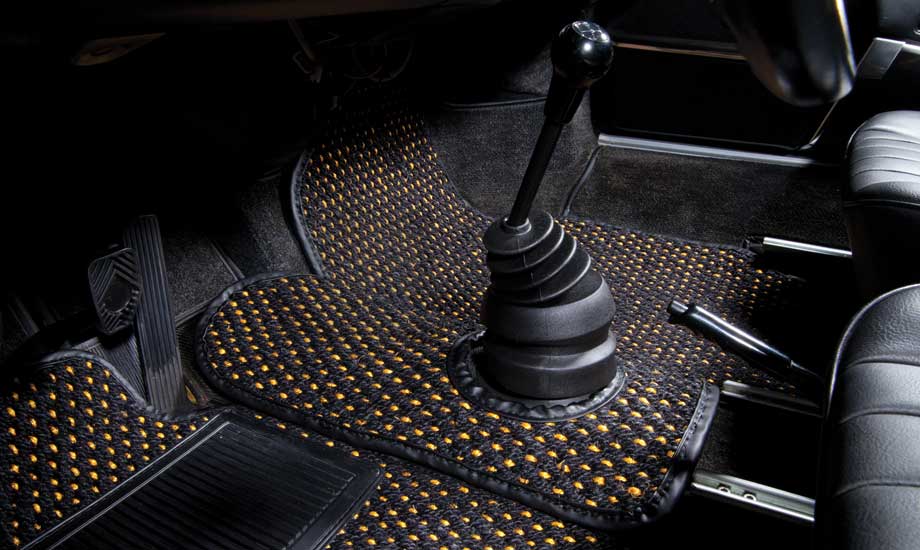 Cocomat is a small company based in California that makes handcrafted custom floor mats. For a Tesla Model Y owner, you are spoilt for choice on what car floor mat that you specifically want. They are the best premium car floor mat that you can own. They are very pricey but they are eye candy, work well and last forever. Here is the purchase link: Cocomat Floor Mats This is one of the mats to consider for your Tesla Model Y car. They are carpeted mats and will custom fit your car and they are available in more than 100 colors hence you will be spoilt for choice when choosing a suitable mat for your Tesla Model Y car floor mat. Apart from carpet floor mats, there are also other all-weather car floor mats to choose from according to the location you live or reside in. To purchase these wonderful floor mats, Use this link: Lloyd Mats Store.
Our top 3D Mats
3D mats mats are the best way to protect your Tesla Model Y car's carpet from damage and wear and tear effects. The carpet in your car has to endure a lot just from everyday use. Maybe you have pets and kids that go along for a ride or perhaps you live in an area that often experiences rain which means you are tracking in mud. Whatever your case may be, stains on your Tesla Model Y car's carpet are never good and you'll want to keep your car's carpet as clean as possible since it will contribute to increasing the resale value when you decide to dispose of your Tesla car. More importantly, it'll reduce the risk of mold or bad smells forming inside the cabinet.
The 3D designs are accurate since every floor is scanned with a 3D scanner sensor which allows you to visualize the extension of the cover with state of the art technology even before the frames are set, Then a process of thermoforming is done on a pvc material of high resistance that figures a tray to prevent the spill of large amounts of liquid. This makes them perfectly adapted to your Tesla model Y. Undoubtedly, you can safely install fitting floor mats without worrying about the warranty, because floor mats don't damage your vehicle, these are built in accordance to work with it and protect it.
As we mentioned at the start of this article. MAXpider gets all the awards as the best mat overall. Now here are the runners up for 3D floor mats for Tesla model Y.
MOTROBE TESLA MODEL Y FLOOR MATS 3D WITH WATERPROOF FLOOR.
Our first runner up is Motrobe, they cost a bit over a hundred dollars and are made with TPE rubber, environment -friendly SSG certified materials and 100% odorless. They are resistant to scratches and feature a custom design for the tesla model Y.
These floor mats have a 3D design with higher edge all around that can prevent sand, dirt, snow, and rain from fouling your original cargo pad. It is easy to clean and perfect for kinds of all-weather. They are waterproof and will not wet your original floor mats.
This one does not have an especial anti-slip design but is very well suited to the original floor of your car.
Click here to check the price on Amazon.
ECARZO TESLA MODEL Y FLOOR MATS 3D ALL-WEATHER FLOOR LINERS
The floor mats from Ecarzo cost about the same as the ones from Motrobe. They are made with high quality materials compacted in a three layers design, as follows, PR surface that provides waterproof protection and sleek luxurious design. It also has XPE capabilities with excellent comfort and cushioning, and an innovative non-slip bottom. thanks to its special design of polyester in its surface, it has the ability to capture snow, sand, mud, and dirt which prevents damage to the carpet in winter or when it rains, however, it's of easy cleaning and low maintenance, you Just need to remove the floor lining and rinse it with water, even you can clean it with pressurized water using your garden house, or wipe it clean with a wet towel.
Click here to check the price on Amazon.
BASENOR Tesla Model Y Floor Mats 3D
The mats from Basenor cost a bit over $100, they are designed with high quality materials compacted in a three layers design as follows,  a layer of thermoplastic rubber surface that provides ultimate All-Weather protection, in the middle has a layer of XPE foaming inner layer that can reduce the noise and finally an anti-slip bottom layer which prevents the mats from slide. Also, it has a Waterproof and stain-resistant system. The Polyester looped fabric surface captures sand, mud, snow, and dirt to protect your Tesla Model Y.
Its design is all-Weather support, waterproof and stain-resistant with a surface that captures sand, mud, snow and dirt to protect your original Tesla Model Y; However this design does not have the multi-layer system, instead it is made of PTE flexible and Eco-friendly rubber, Non-toxic, odorless and easy-cleaning features. You do not need a cumbersome vacuum cleaner or harsh chemicals. Simply rinse it with water and air or with a towel dried.
If you have any problems with this product you can contact the supplier and make your lifetime warranty effective.
The materials with which it is made are friendly with the environment, Non-toxic, 100% odorless, easy cleaned and exceptionally good-looking and durable, however if you have any problems with this product you can contact the supplier and make your lifetime warranty effective.
Click here to check the price on Amazon.
BASENOR – 3D Three Layer Waterproof Protection Floor Mats for Tesla Model Y 2020 2021
The BASENOR 3D floor mat has been designed and cut specifically for Tesla Model Y. Compatible with all Tesla Model Y vehicles. Great innovative three-layer design that makes your Tesla stand out. The thermoplastic rubber surface provides maximum protection for all types of weather. The inner layer of XPE foam can reduce noise and the non-slip bottom layer prevents the mats from slipping. Waterproof and stain resistant. Polyester cloth surface traps sand, mud, snow, and dirt to protect your mat. Our advanced performance, all-weather mat liner is tested for extreme conditions to ensure they will not crack, split or warp. Easy to clean without leaving dirt. Floor covering with eco-friendly material, respectful of the environment. Non-toxic, odorless, beautiful and durable.
Lifetime warranty.
Click here to check the price on Amazon.
This same brand offers you a cheaper product with a simpler design but good quality.
HONOURABLE MENTION
These mats are all-weather and suitable for any occasion that you will go to, they are 3D covered hence they will cover every part of your car. Easy to clean, custom-made, and odorless. They have intricate patterns and are very appealing to the eye. They can be bought from basically anywhere in the world and they will be shipped in approximately twenty-four hours after placing your order. Dedicated customer support based in the US is ready to attend to you if you will need anything. They also have a lifetime warranty. To order these floor mats for your Tesla Model Y car, use this link: Elon Accessories.
CONCLUSION:
Purchasing a high-quality and durable floor mat for your Tesla Model Y is a no-brainer. It will not only keep the interior of your car clean but it will also blend in and a lot aesthetic-wise to the car interior. The above floor mats listed are the best ones and you can't go wrong with any of them.
On the whole, the best way to look after the interior of your car is to have a good set of floor mats 3D.  Given that these offer that extra protection needed and the washing is very easy and fast once these are in the interior of your vehicle, 
You can't go wrong with Maxpider when it comes to purchasing quality floor mats. so they would be our number 1 choice. They come with three layers and premium textures along with a high precision fit. Although it should be noted that while the floor mats can be readily used with the standard Tesla Model Y, it is not yet properly compatible with the 7-seater model. That being said, Teslarati has promised that a floor mat for the 7-seater model is in the works so keep an eye out!
If you would like a premium, classy and long-lasting car floor mat for your Tesla Model Y car, I would recommend you go for the Tesmanian floor mats. They are pricey a bit but they're worth it and that's why they are our second best choice overall.