Best Starter Dashcams for Dash Cam Beginners
December 25, 2021
Disclosure: This is a professional review blog. Bear in mind that some of the links in this post are affiliate links and if you go through them to make a purchase I will earn a commission. Keep in mind that I link these companies and their products because of their quality and not because of the commission I receive from your purchases. All of the products are tested thoroughly and high grades are received only by the best ones. I am an independent blogger and the reviews are done based on my own opinions.
Dashcams have become incredibly popular with drivers, particularly as they are important to have if you do get involved in a motor accident or dispute. They can also provide key evidence for deliberate insurance scams (known as crash for cash in the UK) and other crime that can occur. So, with that in mind, it isn't difficult to see why the popularity of dashcams is rising and rising by the day.
With that being said, it is important to consider many factors when buying your first dash cam, including price, how to set it up and whether you want both a front and rear camera. With those in mind, we'll be looking at various dashcams to see which is the best starter dash cam for dashcam beginners.
With technology being so advanced in 2021, there is no reason not to have a dashcam. There are, however, so many reasons to regularly use a dashcam. The primary reason drivers around the world are investing in dashcams is to have first-hand evidence of car accidents and other road incidents. Beyond that, dashcams are also very helpful when it comes to reporting dangerous drivers, keeping an eye on your kid's driving, and even prevent fraud! In this article, we will cover why you should set up the dashcam in your Tesla Model Y, and how to choose the best USB drive to do so.
Why You Need a Dashcam
Mentioned above were just a few of the reasons any car owner should seriously consider setting up their dashcam. There are dozens of reasons that having a dashcam set up in your vehicle can be beneficial. Here are a few:
Car Accident Evidence
It can happen when you least expect it, a crash. Being prepared to defend yourself in case of any false claims against you after a collision is vital. Often, it is the story of one driver against the story of another driver involved in a collision, and it will be the person who can tell the best story who will have the police/judge agree with them. Thankfully, having a dashcam simplifies the process of determining which driver is at fault for a collision, thus, having a dashcam can defend you when explaining your side of the story to the police or a judge.
Dangerous Driving
Although you may not be involved in a collision, dashcams offer the opportunity to record and report dangerous drivers. This includes but is not limited to drivers under the influence, driving all over the road, and similar. Thanks to dashcam footage, you will have better luck reporting such drivers to law enforcement who can then take appropriate action against the dangerous driver.
Monitoring Your Kid's Driving
Sure, it may seem spy-like to watch every move your child makes while driving, but it is very normal for parents to feel worried while their son or daughter is behind the wheel. Dashcams allow you to see how fast they drive, any reckless maneuvers they may make, and their general driving style. This can also be helpful for driving instructors hoping to see how their student drives when the trainer is not present.
Preventing Fraud
Dashcams can cover your as…tonishing new car! It's a sad reality that insurance fraud is very present in this day and age. Thanks to dashcams, you can avoid being the victim of an insurance scam. If you are not familiar with insurance fraud, in simple terms, certain drivers will deliberately cause a collision with you, hoping to drain money out of your pocket. You can have a laugh next time someone tries to pull that stunt on you when you are protected by a dashcam! You can, in fact, reverse the plan and prove that the other driver caused the collision, and drain their money, as a result.
See why car insurance fraud is an ever-growing problem.
Best Starter Dashcams for Dash Cam Beginners
Aduro U-Drive Pro HD 1080P Dash Camera
Aduro have designed a simple, dash mounted camera (mounted using the suction mount) with 1080p video resolution and including an infrared night lens, a g-force sensor (which automatically saves footage on detecting an accident) and can support microSD cards up to and including 32GB. Retailing at $19.99, the dashcam includes a 5-volt charger and a USB charging cable, which is particularly useful as most modern cars include a USB Type A slot as standard. Customers have stated that, as a first camera, they have found it to be very user friendly but do sometimes find that the microSD card does not always stay in the slot.
Click here to check the price on Amazon.
Bonvenon Mini Driving Recorder
Bonvenon have released a unique dash cam, which can be mounted on the windscreen or on the dashboard itself. Available for $19.99, the camera comes equipped with an ADAS system, which provides drivers with warnings for potential road dangers. This camera is specifically for Android users, as the camera is specially developed and design for Android large screen systems (such as tablets or inbuilt car systems.) Customers have written reviews praising the ability to hide the camera but have also said that they've experienced difficulty with linking the camera up to their Android systems.
Click here to check the price on Amazon.
FILDANCO Dash Cam
FILDANCO have introduced a dashcam with a simple design and set up, which is ideal for the best time user. This camera, which retails at $15.99, includes an LCD display screen underneath the camera, which can be rotated to face the driver. It is connected to the car via the cigarettes charger port and comes with a charging cable and a setup guide and FILDANCO have recently increased the high temperature protection in order to protect the battery and ensure that the camera can be used in a warmer temperate. Consumers have stated that, for the price, it provides decent recording quality, but others have criticised the quality of the AC power of the camera.
Click here to check the price on Amazon.
MACHSWON Dash Cam
MACHSWON's dashcam contains an inbuilt g-sensor, which detects shakes or collisions, films a 170° wide angle, which gives further depth coverage to the footage. The camera, which is currently available for $20.98, includes an auxiliary light source, which is useful at night, and a microSD slot supports cards up to and including 32GB. The camera comes equipped with a USB cable, car charger, suction bracket and a user manual to make assembling the camera as simple as possible.
Click here to check the price on Amazon.
Black Box G50 Original Dashboard Cam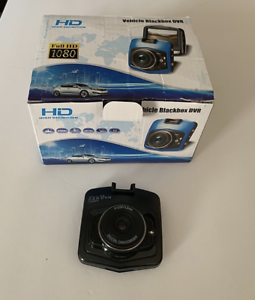 Black Box have designed a 2", 1080p dashcam which is, as with the majority of the dashcams reviewed, attached to the car via a suction mount, which is then attached to the windscreen. Selling for $19.99, the compact camera includes a rear screen, which means that you can place the camera exactly where you want it and don't need to adjust the screen to fit. The camera comes with a 170° wide angle lens and is a 16 Megapixel camera. Consumers have praised the quality and discretion of the camera but have noted that the camera's battery needs to be improved.
Click here to check the price on Amazon.
SolUptanisu DVR Dash Cam
SolUptanisu have designed a straightforward and simple dashcam, which includes a 1080p lens and a 120° angle view. Assembly is simple for this camera, which retails at $22.59, as it includes a mounting bracket and a multilingual assembly guide. The camera also includes an inbuilt microphone and speaker, meaning that audio from footage is recorded and can be played back on the camera itself, which is particularly useful if you want to review footage of a particular incident before transferring the footage to your PC/laptop.
Click here to check the price on Amazon.
Acouto Car Driving Recorder
Acouto have introduced a dashcam which, as with the many of the other cameras reviewed in this post, has a simple design and is easy to assemble. The camera, which is currently available for $23.29, has an inbuilt GPS recorder, which allows you to record the location of incidents on the screen as and when they happen. The camera records with 1920 x 1080 HD resolution, which provides a clear image for your recordings.
Click here to check the price on Amazon.
Final Thoughts
When buying your first dashcam, there are a few points to think about. Once you've considered how easy they are to assemble, the affordability, the quality of the video and the ease of transferring the relevant files to your PC/laptop, you'll be on your way to choosing the right camera for you and joining the millions worldwide who have already taken that first step to peace of mind.
If you like this review on the best start dash cams for dash cam beginners, take a look at some of our other dash cam content:
https://truckdashcam.net/top-10-dashcamera-features/  – looking at the top ten dashcam features
https://truckdashcam.net/why-do-i-need-a-dash-cam/ – looking at reasons why you need a dash cam